#DRAWTHISINYOURSTYLE CHALLENGE
PL:

Około dwa tygodnie temu 

@yeaaahstudio

 rzuciło wyzwanie 

#DrawThisInYourStyle

 gdzie trzeba było narysować własną wersję ich pracy. Tematyka japońska, więc czułem się jak karp koi w wodzie. Postanowiłem potraktować tę ilustrację jako "Otaku Tribute" gromadząc w jednym miejscu wszystkie japońskie (oraz kilka pozostałych dalekowschodnich) rzeczy, którymi się jaram! Z technicznych rozkminek udało mi się zrobić duży krok w stronę używania mocnych kolorów w zestawieniu z czarnym konturem i uważam, że jestem na dobrym tropie w rozwijaniu stylówki!
EN:

 About two weeks ago @yeaaahstudio threw 

#DrawThisInYourStyle

 challenge, where you had to draw own version of their artwork. The theme was japanese so I felt like a Koi Fish in a water. I decided to treat this illustration as an "Otaku Tribute" gathering in one place all japanese (and few other far-east) things I love. From technical side I managed to do a big step in way to using strong colors with black outline and I think I'm on a good track on making my style better!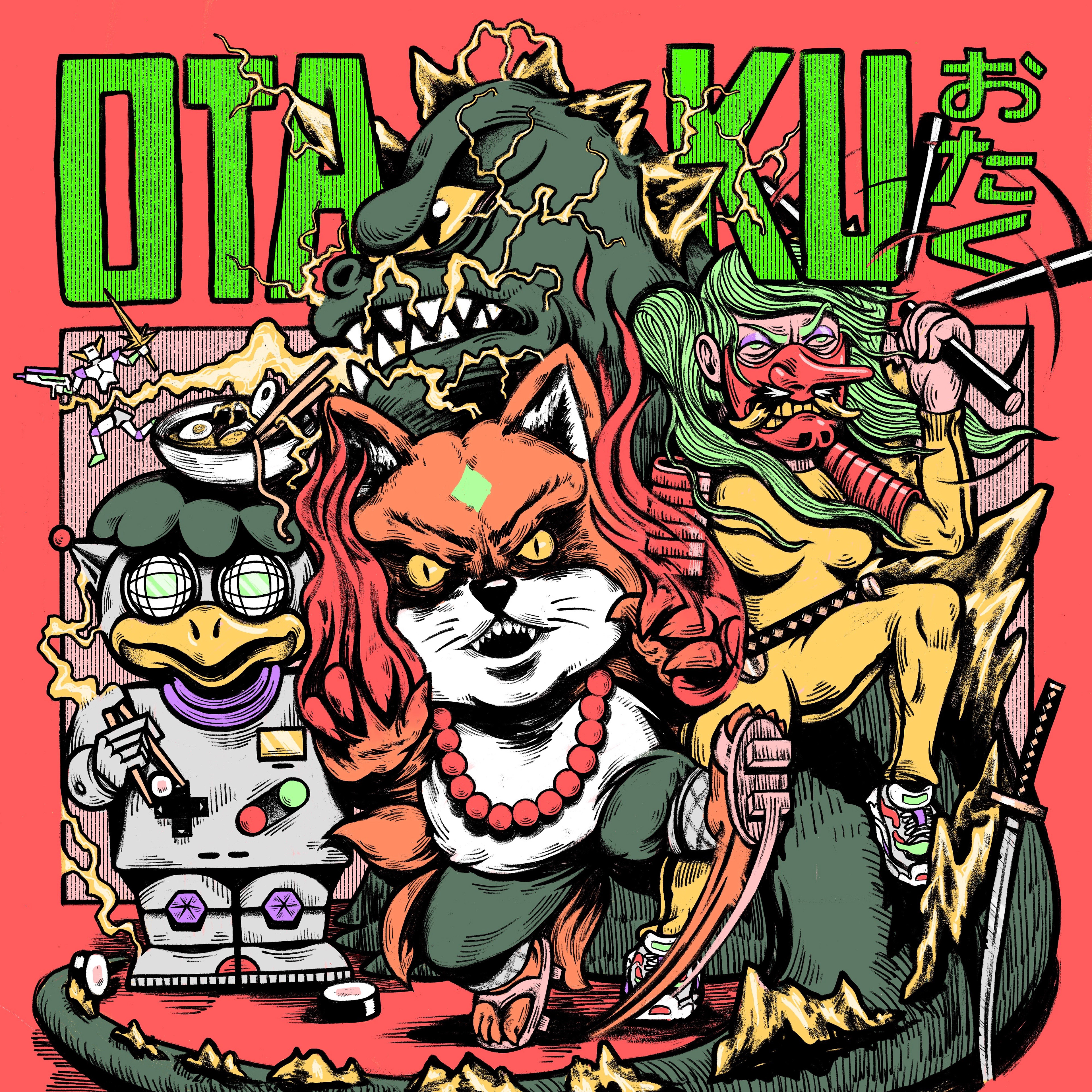 Starałem się zachować podstawowe cechy postaci z oryginału, ale z dodaniem własnych elementów i nawiązań, które wyjaśniłem poniżej.
I tried to keep basic features of characters from original, but with addition of my own elements and follow ups, which I've explained below.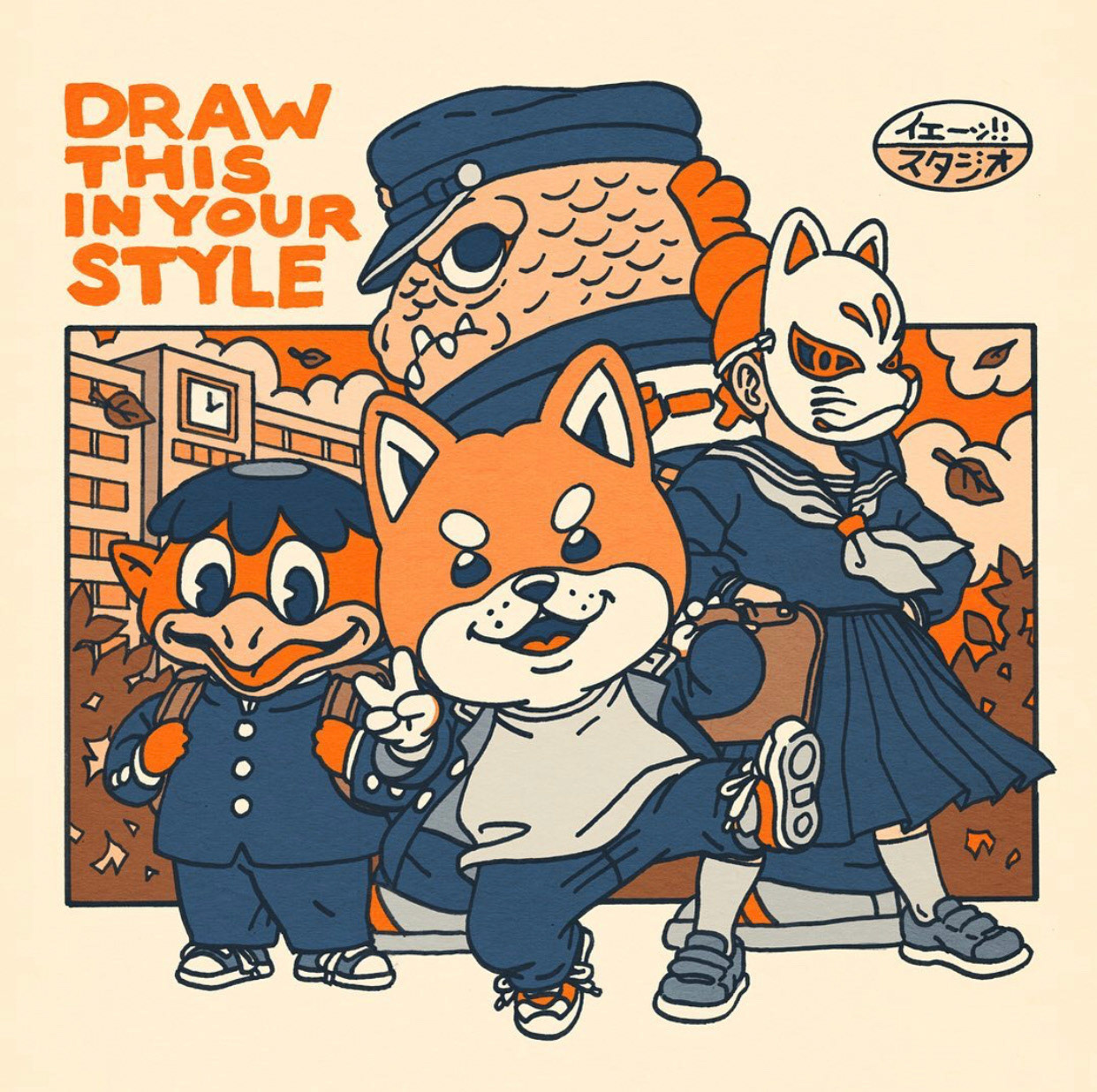 Wszystkie przedstawienia wielkich potworów Kaijū, walczących z równie wielkimi mechami w centrach miast, niszcząc wszystko dookoła. Dodatkowo motyw nagłego power-upu, transformacji i towarzyszące temu wybuchy energii i wyładowania elektryczne – Godzilla, Power Rangers, Pacific Rim i formy Super Saiyan z serii Dragon Ball.
Every depiction of huge monsters Kaijū, fighting with equally huge mechas in centres of cities, destroying everything around. Additionally theme of sudden power-up , transformation and accompanying to that explosions of energy and electrical discharges – Godzilla, Power Rangers, Pacific Rim and Super Saiyan forms from Dragon Ball.
Japońskie gry retro jak Super Mario Bros i konsola Nintendo Game Boy. Oryginalna kawaii estetyka nowoczesnej technologii w japońskim przemyśle i popularne dania japońskiej kuchni, w szczególności zupy ramen i sushi.
Japanese retro games like Super Mario Bros and Nintendo Game Boy console. Original kawaii aesthetic of modern technology in japanese industry and popular dishes of japanese kitchen, especially ramen soups and sushi.
Wszystkie dzieła popkultury związanie z orientalnymi sztukami walki tzw. kino kopane, w tym przypadku bardziej produkcje chińskie i hollywoodzkie. Wizerunek postaci samurajów, ich unikatowe uzbrojenie i estetyka. Stylistyka graficzna anime – sposób syntezowania form, przede wszystkim upraszczanie przedstawiania postaci ludzkich.
All works of pop culture related to oriental martial arts, in this case more Chinese and Hollywood productions. The image of samurai characters, their unique equipment and aesthetics. Anime graphic design – a way of synthesizing forms, above all simplifying the presentation of human figures.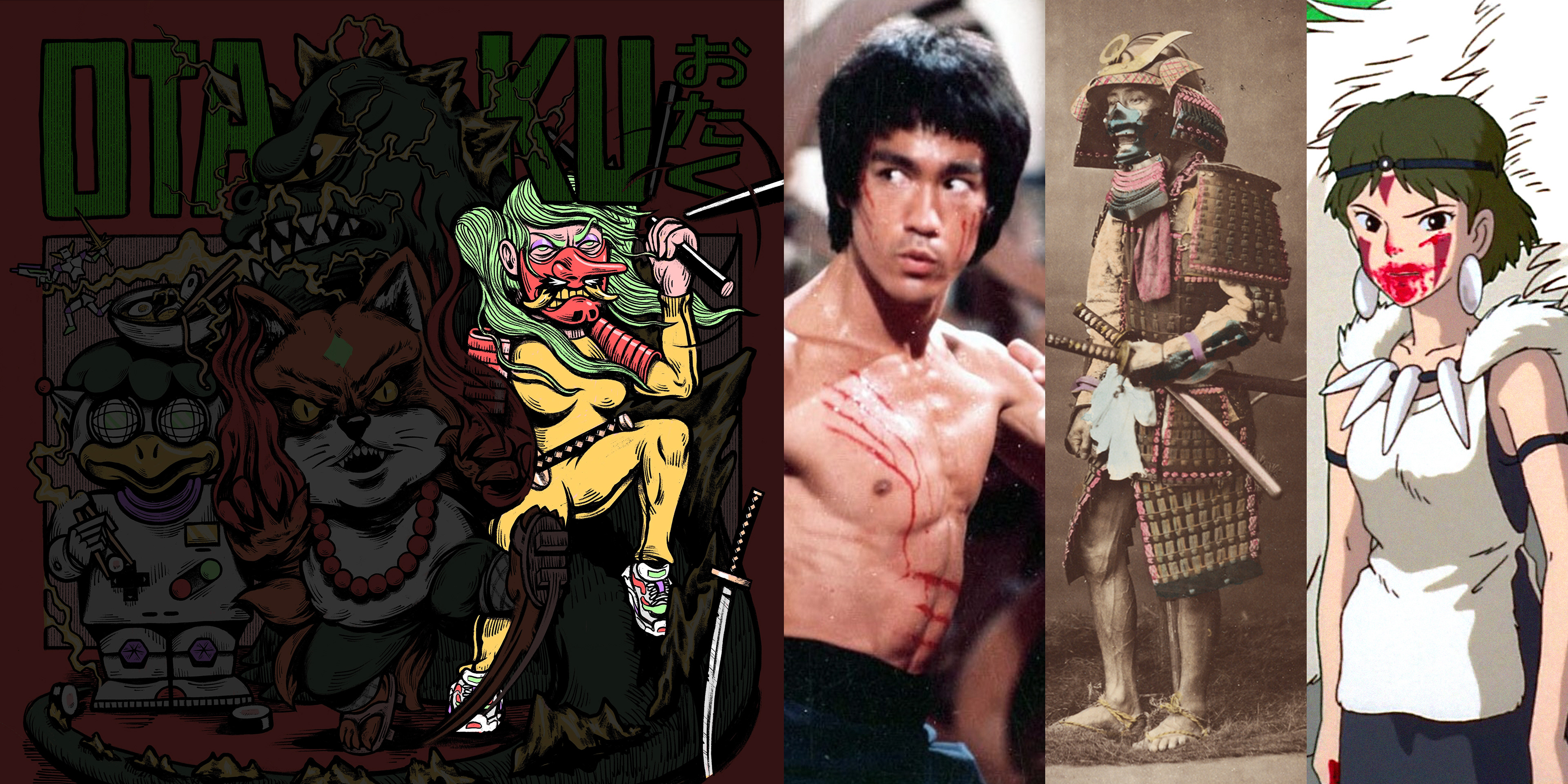 Najemnicy ninja w swojej formie z przekazów historycznych, ale także ich wariacje popkulturowe jak np. manga Naruto czy anime Shinobi. Demony i duchy z wierzeń japońskich, w tym przypadku Kyuubi no Kitsune. Wizerunek dalekowschodnich mnichów, mistrzów walki i samodoskonalenia, głównie z popularnego Klasztoru Szaolin.
Ninja mercenaries in their form from historical stories, but also their pop culture variations such as manga Naruto or anime Basilisk. Demons and ghosts from Japanese beliefs, in this case Kyuubi no Kitsune. The image of Far Eastern monks, fighters and self-masters, mainly from the popular Shaolin Monastery.
Dzięki za uwagę! Thanks for attention!
PL:

Sprawdź też moje portfolio na: 
EN:

Check also my portfolio on: